The Lighthouse/Teach an tSolais
The Arranmore Lighthouse is located at Rinrawros Point at the north west corner of the island. It has been in existence since 1859 having replaced the lighthouse built in 1798 which had been de-commissioned in 1832.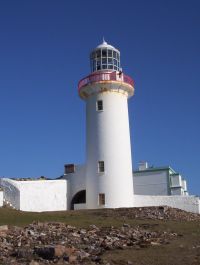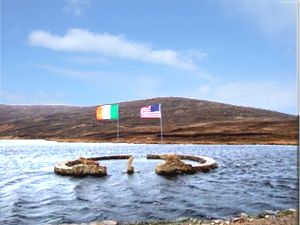 For many generations a bond has existed between Arranmore Island, Co. Donegal and Beaver Island in the USA. Although physically separated by the Atlantic, the two islands are inextricably linked. These links were forged during the years of the Great Hunger when hordes of people fled from all parts of Ireland to escape poverty and starvation and emigrated to the USA. Many of those who emigrated from along the Rosses shores and islands, made their way to the shores of the Great Lakes in the USA where they settled and made new lives for themselves. The colonisation of Beaver Island by those early Irish settlers is evident from the map of Beaver Island with so many place names bearing the surnames of those early settlers.
Arranmore Guided Tours - Turais Treoraithe Árainn Mhór
Guided Walking Tours available throughout the year with registered tour guide, Denis O'Donnell.
Tours highlight all of the island landmarks including:
Lighthouse & Coastguard Station
Cliffs
Beaver Island Monument
St Crones Church & Graveyards
Lakes & Mountains
Location of Arranmore Disaster
Famine Pot
Contact: Denis
T: 087 3162146
W: www.facebook.com/arranmore.guidedtours/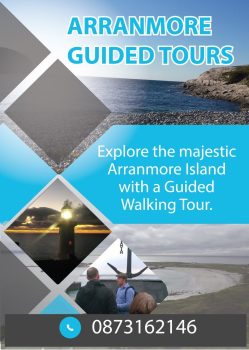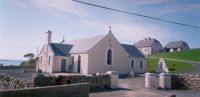 St Crone's Church – Teach Pobail Naomh Cróine
St Crone's Church is situated at the crossroads bordering the townlands of Illion and Ballintra.
In 1917, an extension was added to the church. Fr. John MacIntyre was curate in Arranmore at the time and he worked tirelessly to have the extension work completed. He paid meticulous attention to the renovation and construction of churches in each of the parishes he was sent to.  The parochial house was built in 1908 by Fr. Eddie Doherty.
The church on Arranmore also catered for the inhabitants of Inis Caorach, the last inhabitants left the island in 1955. During the days of the English penal laws, masses were held in secret at the site of mass rocks. There are three such sites on Arranmore; Ard an Aifrinn in Poll an Mhadaidh, Béal an Chaisil in Goirt Gearra and Malaigh na hAltóra in Plochóg.
Weekend Service
Saturday Evening Mass 7:00pm – Sunday Morning Mass 11:00am
Tel: 074 9520504
Oileán Árainn Mhór - Arranmore Island
Available @€15.00 from An Chultúrlann & Comharchumann Árainn Mhór.
The book is the result of the combined efforts of participants on a FÁS Community Response Project which took place on the island from December 1999 to October 2000. The book was officially launched on 3/4/2006.

Is féidir an leabhar a chéannacht go háitiúil nó tríd an phost. Is féidir tuilleadh eolais a fháil ach teagmháil a dhéanamh leis an Chomharchumann.
coamteo@gmail.com
074 9520533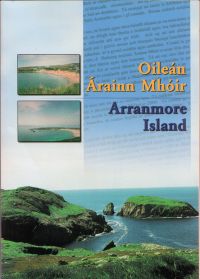 Post Office – Oifig an Phoist
The Árainn Mhór Post Office is situated in the community center, Fál an Ghabhann.
Hours of Business:
Mon, Tue, Wed: 9:00am-2.00pm
Thur, Fri: 9:00am-2.00pm, 2:30-5:30PM
Saturday: CLOSED
ATM Services
An ATM service is available in the Post Office (BOI & AIB) during Post Office opening hours.
Árainn Mhór is divided into thirteen townlands. The names of the townlands originate from the Irish language with the physical characteristics of the area influencing the naming of that area.
An Leadhb Gharbh – Leabgarrow
Leadhb – a piece of land. Gharbh – rough.
Located in Leadhb Gharbh: Ferryboat quay, Leadhb Gharbh Pier, Boat House Beach Bites, No 1 National School (Naomh Colmcille), Gairmscoil Mhic Diarmada, Hughie Mickey Dan's Café & B&B, The Glen Hotel, Árainn Mhór Hostel, Phil Bán's Shop & Bar, Early's Pier Bar & Lounge, Boyle's Nite Club & Bar.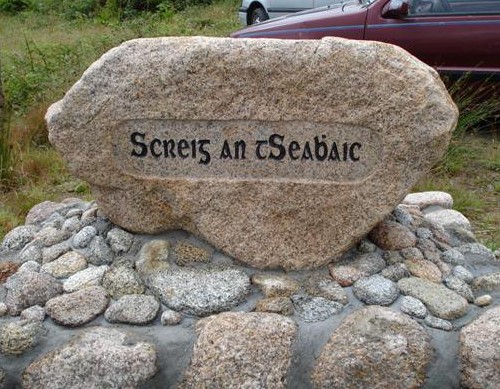 Poll an Mhadaigh – Pollawaddy
Poll an Mhadaigh
Poll – harbour, an Mhadaigh – of dogs
Many of the first islanders sent to Beaver Island by the Landlord, John Stoupe Charley were from Poll an Mhadaigh. Located in Poll an Mhadaigh:
Arranmore Lifeboat Station.
Scraig an tSeabhaic – Screig
Scraig – rock, tSeabhaic – of the hawk.
Báigh Bhéal an Chraoise is located off Scraig.
Na Goirt Ghearra – Gortgar
Goirt – fields, Ghearra – short.
An Cloch Corr – Clochcor
Cloch – stone or boulder, corr – rounded or projecting.
Located in Cloghcor: Comharchumann Árainn Mhór Teo, Coláiste Árainn Mhór.
Fál an Ghabhann – Fallagowan
Fál – hedge or barrier, Ghabhann – smith.
Located in Fál an Ghabhann: The Holiday Village. Former Courthouse (1855)
Baile an tSratha – Ballintra
Baile – village or townland, tSratha – low-lying land along a river or lake.
Located in Baile an tSratha: Neily's Bar, The Day Care Centre.
Baile Ard – Ballard
Baile – village or townland
Ard – high.
Uileann – Illion
Uileann – elbow or corner.
The Church of St Crone's borders the townlands of Illion and Ballintra.
Plochóg – Plohogue
Plochóg – hallow.
Located in Plochóg: Malaigh na hAltóra – The Mass Rock.
 Leadhb Rannagh – Leabrannagh
Leadhb – a piece of land
Reannagh – headland.
Located in An Leadhb Reannagh: No 2 National School (Naomh Cróna), Reannach Park soccer pitch.
Athphort – Aphort
Athphort – out-port.
Na Tuarthaí-Torries
Tuar – dry, or it can also mean a ploughed field into which sheep are put. Granite was quarried in Torries and taken by horse and cart to build the lighthouse
The Glen Hotel
The Glen House was the home of the former landlord John Stoupe Charley. It became the island's first hotel in 1928 and among its first guests were the Aran Islands writer Liam O'Flaherty and his wife who visited the island whilst on honeymoon.
Former Mill (18th century) at the top of the ferry pier at Leadhb Gharbh.
Former Courthouse Built at Fál an Ghabhann circa 1855.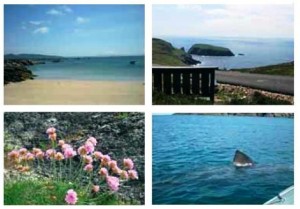 The Old Graveyard at Trá an Chaisil in the south of the island was given to the islanders in 1725 to bury their dead following the tragic drowning of nine people on their way to a funeral on the mainland. A new graveyard replaced it in 1893.
Uaimh an Air (Cave of slaughter)  located on private lands, at Uillinn in the south of the island, near a prehistoric promontory fort. Local lore has it that a Cromwellian captain slaughtered 70 women and children who had taken refuge here in 1641.
Mass Rock. Plochóg
Árainn Mhór & Beaver Island Memorial, Loch an Chomhanaigh. Several hundred emigrants from Árainn Mhór settled on Beaver Island in Lake Michigan, USA, after the famine in 1851 , and both communities still exchange visits. Árainn Mhór is now twinned with Beaver Island. The memorial was built in 2000.
Famine Memorial at Arranmore Holiday Village
The Lighthouse, at Rinawros Point, was first built in 1798. Donegal's first lighthouse, it was rebuilt in 1865 and was manned by keepers until fully automated in 1976. Rock arches and sea caves can be seen nearby.
The Old Coastguard Station (derelict) is located adjacent to the lighthouse lot. It was burned down during the Civil War in 1922.
Loch an Chomhanaigh – Cowan's Lake was named after a land steward who had a house there. The lake serves as the island's reservoir and it is one of the few lakes in Europe where rainbow trout breed naturally. The trout were introduced from Canada in the early 1900s.
Cnoc an lolair – hill of the eagle (750ft) is the island's highest point. White-tailed Sea Eagles bred here in the past.
Cliffs up to 120 metres high all along the west and north coasts of the island.
Na Tri Mic Ó gCorra-The Three Stags. Three sea-stacks situated to the north between Toraigh and Árainn Mhór. In mythology they are said to be a pagan sister and two brothers who were turned to stone by St Colmcille as they leapt into the sea at Toraigh in an attempt to swim to Árainn Mhór or the mainland.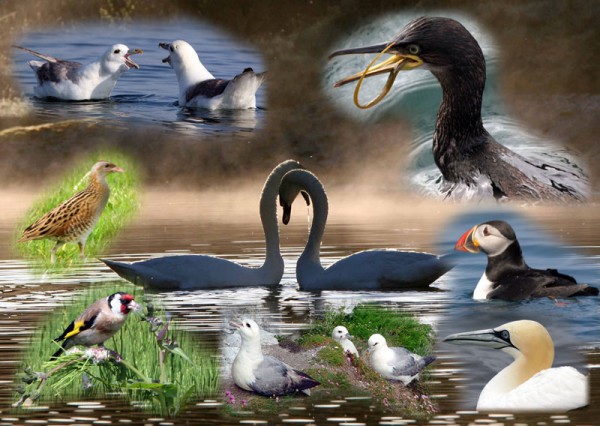 Birds frequently observed on Árainn Mhór
| | | |
| --- | --- | --- |
| Blackbird | Fulmar | Puffin |
| Black-backed | Gull | Guillemont |
| Razorbill | Black Hooded Gull | Goldcrest |
| Ringed Plover | Bluetit | Herring Gull |
| Robin | Chaffinch | Hooded Crow |
| Shag | Common Gull | Jackdaw |
| Starling | Curlew | Whimbrill |
Éin Árainn Mhór by Micheál Mac Gloinn
The first field guide to the birds of Árainn Mhór, with short, bilingual descriptions and photos of 104 species and a listing of a further 61 less common visitors.
It can be purchased on the following website for €25 including postage.

 https://madeinarranmore.com/ein-arainn-mhor/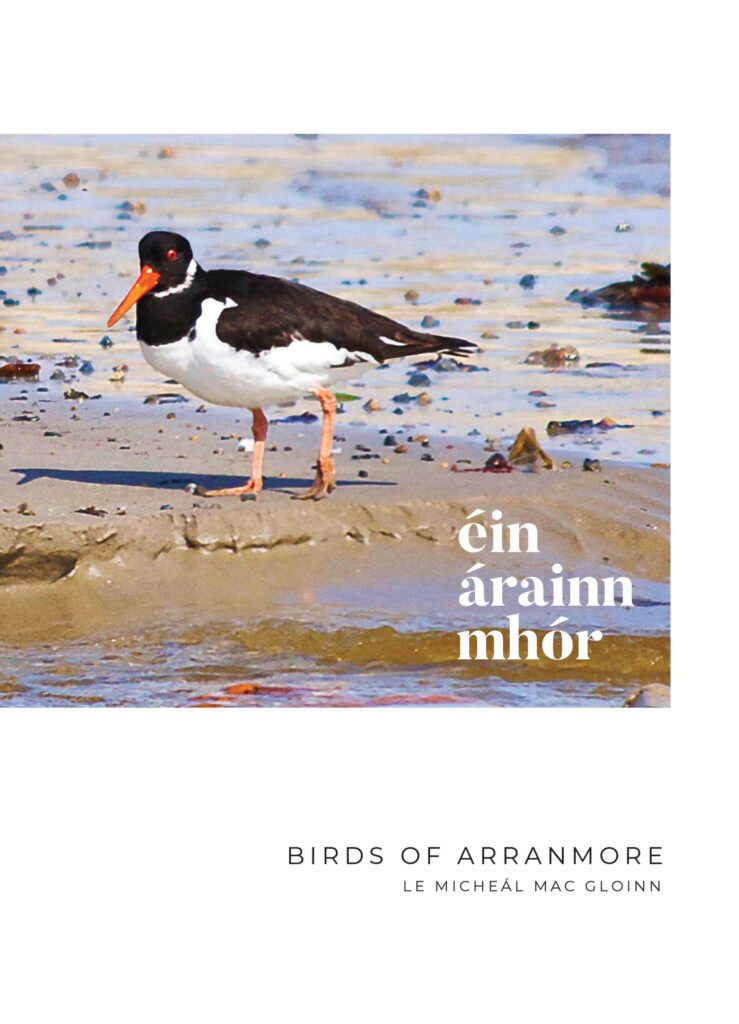 The following is a list of some of the birds which can be observed on Oileán Árainn Mhóir.
| | | |
| --- | --- | --- |
| Name of bird | Irish Name | When observed |
| Artic Skija | Meirleach Artach | Good numbers seen daily. |
| Brambling | Breacan | One seen in trees by hotel |
| Black Redstart | Earrdeargan dubh | Female seen at lighthouse 1993. |
| Chough | Cag Cosdearg | Common bird on Island. |
| Citrine Wagtail | Glasog Liomoin | One seen in hotel gardens 1993. |
| Fieldfare | Sacan | Three seen near the lighthouse. |
| Gannet | Gainead | Good numbers seen daily. |
| Great Shearwater | Canog mhor | Flock of 1200 seen near lighthouse. |
| Great Skija | Meirleach mor | Good numbers seen daily. |
| Kittiwake | Saidhbhear | Good numbers seen daily. |
| Leach's Petrel | Guairdeall Gabhlach | Seen only when birds are blown inshore in very windy conditions. |
| Meadow Pipit | Riabhog Chladaigh | Seen around the coast. |
| Mearlin | Meirliun | Five birds seen, possibly on migration from Iceland. |
| Pallas's Warbler | Ceolaire Phallais | One bird found between Lough Shore and the lighthouse 1993. |
| Raven | Fiach dubh | Some birds seen daily. |
| Redwing | Deargan Sneachta | Small numbers arrive daily. |
| Rock Pipit | Riabhog Mhona | Resident on island moors and on passage from Iceland. |
| Snowy Owl | Ulchabhan Sneachta | One long-staying young male. One on Rannaigh Point Aug 2004 |
| Sooty Shearwater | Canog Shuiche | Few seen daily rare. |
| Storm Petrel | Guairdeall | Seen daily in strong winds. |
| Stonechat | Caislin Cloch | Resident and some passage birds present on lowland coastal areas. |
| Wheatear | Clochran | Seen daily in small numbers along the cliffs and around the lighthouse. |
| Whooper Swan | Eala Ghorach | Seven birds seen at Lough Shior. |
| The Semi-Palmated Plover | (Charadrius semipalmatus) | One on Leabgarrow Strand 2002 |